Introduction
This web site is an attempt to collect the widely scattered historical facts and records related to Petrus Mosellanus (humanist and philologist) and make these available to anyone interested in this great son of the Moselle area and his place of birth in particular.
Furthermore, the aim is to erect a digital monument honouring a greatly talented and outstanding scholar of his time originating from the small village of Bruttig at the Moselle river (Germany) who seemed to have been forgotten for many centuries - a monument that pays tribute to and is in accordance with his world wide recognized achievements.
The motive of this initiative is of a personal nature as I, being a 12 year old boy in 1964, had the privilege of witnessing the thrilling process of what should later result into the publication of the book "Petrus Mosellanus – ein vergessener Moselhumanist". The author, Robert Schober from Cochem-Cond, a nearby town of my own birth place, frequently visited my father throughout the sixties and later to discuss and report about all the progress he had made in his investigation to reveal life and work of this remarkable humanist and philologist. At that time my father was the owner of the local family hotel named "Mosellanus – Klause" - years before they met for the first time.
In the last 5 – 10 years it was most surprising and exiting to me to learn where and to what extend was written in recent years about Petrus Mosellanus and that his tracks could be found almost anywhere in the world – a true living legend. He, indeed, has established global fame judging by the many libraries, national ones as well as in famous universities, museums and private collections where records of his work can still be found today. Against this background the set up of a central Petrus Mosellanus web site on the internet must be considered as being long overdue. At the same time it is intended to offer the opportunity to nationally and internationally exchange information and ultimately improve and complete this web site as far as possible.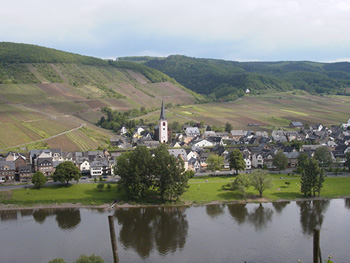 I would like to invite and encourage any visitor and reader to actively make use of the possibilities provided by this site on the internet. Last but not least I can highly recommend a visit to the idyllic place of birth of Petrus Mosellanus, Bruttig at the Moselle river (Germany) where they still grow excellent wines waiting to be tasted in the suitable surrounding of old cellars containing modern equipment for today's art of wine making.
Finally, I sincerely hope that these first few steps will constitute the beginning of a broadly set up and long lasting initiative resulting one day in an independent Petrus Mosellanus Foundation, a permanent exhibition and a physical monument in his birth place worthy of that of a great master in the Latin and Greek language and an example for the youth, now and in the future.
Wilfried Hess
initiator