Life
Early years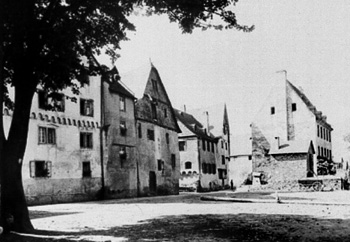 In the year 1493 Petrus Mosellanus was born as Peter Schade in grinding poverty in a place called Proteg (today: Bruttig). His exact date of birth is not known to this day but it is presumed that he must have been born between 17th februari and 19th April 1493. Therefore, 1st March has been handled as being his date of birth. He was one of the 14 children of Johannes Schade and his wife Catharina and at the same time the youngest among his brothers. His father was a winegrower, barber and had a small groceries store. He discovered his youngest son's talent at an early stage and sent him to school, at first to the Klosterschule (monastery school) in Beilstein, a nearby village.
Peter Schade later on changed his name into a Latin form which was not unusual among scholars in those days .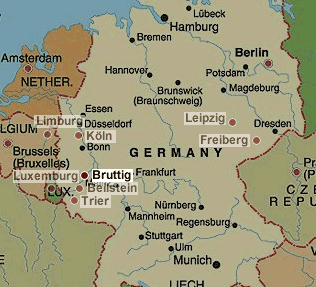 He called himself Petrus Mosellanus (derived from the name of the River Moselle) or Petrus Protegensis (derived from the name of his home village). Shortly later his father died and his mother urged him to stop studying and put his efforts in more domestic areas to ensure an income for the family.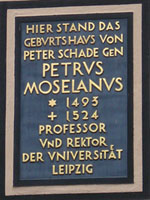 Today a sign at the front of a house in Bruttig shows that this was the place where once his home stood (Moselstrasse).