Reformation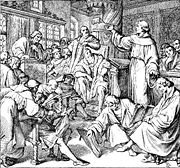 His significance and contribution to the Reformation must be found in his opening address on occasion of the Leipzig disputation held at the Pleissenburg between Luther, Karlstadt and Eck on behalf of the Duke of Saxony on june 27th 1519. He called upon the participants to refrain from personal attacks and concentrate solely on contents matters. His address was titled: About the proper way to dispute theological matters.
On his personal request the opening address at the Leipzig Disputaion was closed by playing the "Veni sancte spiritus" three times.
In the course of the Leipzig Disputation his role was restricted to that of a spectator. Today, we owe him detailed descriptions of the participants of the Leipzig Disputation which he mentioned in several letters to friends and fellow humanists.